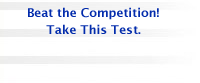 SUMMARY
* Senior executive for 5 startups and companies with sales up to $100 million; CFO of an Inc. 500 consumer products company, CFO / COO of an Internet software development firm, and Partner of a consulting firm. CPA/ MBA
* Powerful international operations track record includes increasing sales effectiveness, corporate reorganizing, benchmarking, reducing business cycle times, increasing quality, designing and implementing advanced inventory management, and performance measurement systems.
* Redirected the product planning, optimized a key RBOC market alliance and revamped product development at a troubled Internet software firm, freeing the stalled product launch efforts. Recommended feature-set changes to the prepackaged software, incorporating e-commerce and other product line branding enhancements.
* Managed the planning, implementation and evaluation of all business process re-engineering activities within the value chain (manufacturing, logistics, and distribution) at a major Fortune 500 subsidiary.
* Strong technical skills emanating from high-tech/telecommunications and applied-technology industry experience.
* Growth catalyst for two successful start-ups; grew an existing business from $100,000 to $10 million.
* Successful implementation of MRP II, TQM, BS 5750/ISO 9000 certification and J.D. Edward's Premier Site.
* Effective at financial-crisis management: Experienced at restructuring troubled debt, liquidity management, and procurement of both equity and working capital financing.
* Evaluated and redesigned leading-edge midrange and personal computer software applications, improving operations, administration and accounting productivity. Prioritized software development tasks.
EXECUTIVE MILESTONES
Entrepreneur: Took two early-stage companies from $1 million to $10 million in sales within first year. Transformed a troubled food franchise, expanding from two stores to ten. Transformed a $1.4 million loss into a $.4 million profit within 18 months. Restored another company to profitability within one year.
Revenue Enhancement: Achieved major sales by broadening customer base 525%; increased revenue from $16 million to $100 million, and achieved 1,000% growth in one year. Directed nationwide store rollouts from 100 to 1,000 retail stores in a year.
Negotiator & Dealmaker: Successfully negotiated 77 deals worth $300 million: Located buyer and co-negotiated the sale of eight projects, providing $8 million in working capital and preempting a liquidity crisis. Sold, renegotiated and restructured 20 projects, generating $100 million in two years. Located financing for a $25 million bridge loan. Screened, evaluated, structured and executed merger & acquisition deals. Constructed IPO, Regulation D and other SEC filings, involving discussions with investment bankers.
Infrastructure Developer: Created financial, administrative and operations infrastructure in highly diversified environments: International, multi-site manufacturing, consumer products and high-technology industries. Skilled at applying business plans, marketing plans, strategic planning formulation / facilitation, re-engineering, value chain management, EVA, TOC and ABC to relevant environments.
Profitability: Accomplished market strategist; optimized product mix to enhance margins and overall profitability.
Product Launch: Reinvigorated the marketing and product development of a troubled Internet software application development firm. Result: Successful product rollout, due to customer-driven improvement in feature-set content across multiple product lines, pricing, and corporate development of both domestic (RBOC) and international sales alliances.
Cost Reduction and Strategy: Diagnosed multiple company oversights, resulting in annual cost reductions ranging from $150,000 to $3,000,000. Redirected company strategy from low-margin products to high-margin, growth-oriented business.
Operations Management: Team leader that restructured the manufacturing operations of an international Fortune 500 subsidiary. Transitioned from a process flow environment to cell based concept while integrating TQM. Reduced scrap and inventory, while increasing productivity, capacity, manufacturing lead times, and rework times, directly simplifying the parts flow, scheduling and job estimation processes. Selected as one of 3 worldwide J.D. Edward's Premier pilot sites. Completely redesigned logistics for a multi-site manufacturer, transforming transportation, warehousing & distribution. Results: Improvements reduced operating costs by 20%.
EMPLOYMENT
Twenty + years of leadership experience at Interim CFO Plus, LifeSimple.com, IDS, American Cellular, Travelpro Luggage, American Finasco, H H Robertson (UK), RDG, B I Group and KPMG Peat Marwick.
EDUCATION
STANFORD UNIVERSITY: Masters of Business Administration - Finance, Marketing, and Operations
UNIVERSITY OF MISSISSIPPI: Bachelor of Business Administration, Accounting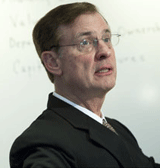 GARY PATTERSON